Larraine
From Orost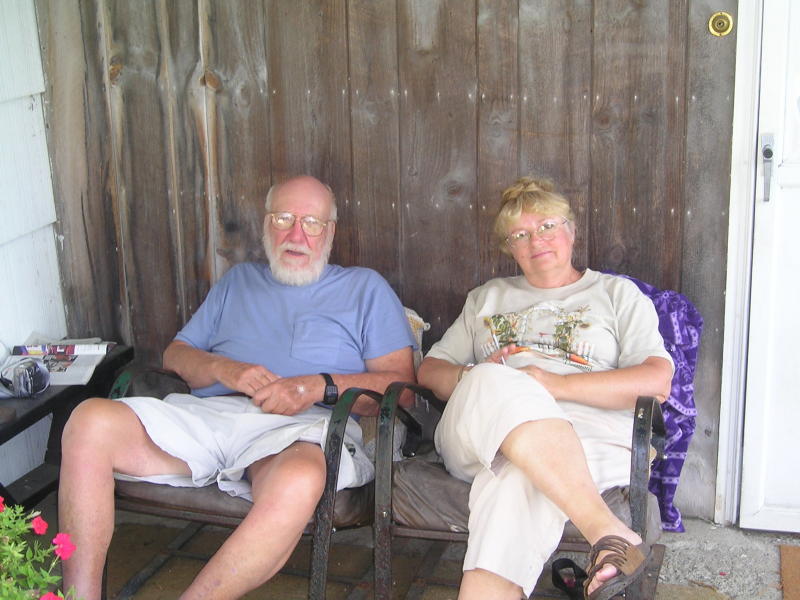 This is me, Larraine, with an "a" and not an "o" with husband Joe.
I am his third wife, the other two were Ruth and Jean. He claims they kicked him out because he was so obnoxious. But I have him under control now.
Here is a story he wrote about me:
Listening to her in church, I was astonished by the timbre and clarity of Larraine's voice. This compelled me to suggest she be compared to someone with a "golden voice" and wrote the following:
The Golden Voice
There was a sudden hush that ran through the church audience as she began to read the scripture from the lectern. She created a cool whisper floating through the airwaves. I was awed as I was propelled many centuries backwards into ancient times where I was transfixed among the biblical characters that she so delicately created.
I hung on every word waiting for more and more, not wanting her to stop. I grasped each word of the gospel she so clearly enunciated and momentarily held it and turned it into darkened shadowy scenes from the past. I envisioned impassioned scenes, which I never before imagined possible.
This was a spiritual experience I never before felt. If you were in the audience you too would have been lucky to be present so that such a phenomenon could been created before your eyes. If you are fortunate, some day you too may witness this on some special Sunday at the Emmanuel Lutheran Church in Venice.